ABSORBENTS IN GRANULES
Green Stuff ® Granular Absorbent Ideal for use on any type of spill. Nothing compares with the speed and characteristics of the "GREEN STUFF®" granule absorbent. Efficient for use in closed areas. Absorb instantly by applying directly on the spill. Avoid setbacks and bad image. Our granule absorbent will keep your work area clean in a practical, fast way. In addition to significantly reduce the generation of waste, generating savings in the management and disposal of your waste.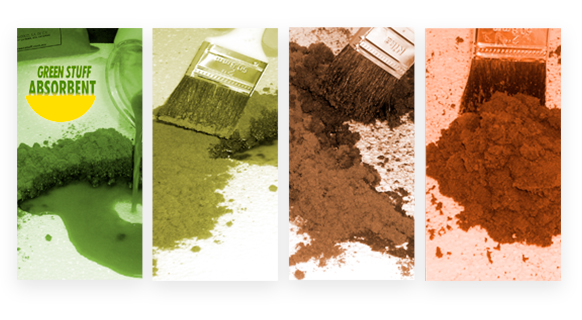 CHARACTERISTICS
- Absorbent of universal type.
- Able to absorb all types of spills oils, chemicals, paints and products based on water and aqueous solutions.
- It provides great capacity and speed of absorption thanks to its cells designed to retain more and better spilled liquids absorbing up to ten times its weight.
- It is not flammable, so it allows you to store it safely.
- It gives the confidence that it is not toxic besides being completely inert.
- Lightweight
- Easy disposition to be able to be incinerated or confined thanks to its characteristics of high level of BTU's and non biodegradability.